When it comes to your logo, you are always looking for the best. And why shouldn't you? It is infact your "gateway" to potential customers, before they see you, before they talk to you, they see your logo, which reflects on who you are. Are you a luxurious brand? Are you friendly? Are you reliable? Ultimately, are you worth a shot?
Sometimes the biggest challenge is the cost 💰 and time ⏲, and it always seems like freelancers are the best alternatives to help with those two issues, but in this article we break down why it is important to think again.
1. Reliability
At the end of the day, a freelancer is a one-man business, that means when the freelancer is sick 🤒, the whole business is shutdown. If the freelancer goes on a vacation 🌴, the whole business is closed. If something were to happen to the freelancer, there goes your money, time, and effort. Agencies on the other hand do not rely solely on one person, and therefore always open on working hours and if one person can not get back to you, another one will.
2. Creativity minimizes
With a freelancer, your logo is more or less a hit or miss, this is one person who needs to do sales, customer service, finances, and on top of that think of how to design your logo and then actually design it 😵. If you are unhappy with the logo, the same person needs to retry, and the creativity is limited to a single person. An agency however distributes the work among accountants, project managers, sales person, client servicing, and and on top of that a creative director helps build direction and multiple designers will chip in and design different options from their angle giving you a variety to select from.
3. Security
With a freelancer, the sense of security drops significantly. If they are a scam or decide not to reply to you for any reason, your chances of finding them drops. They can easily close shop in one place and open another elsewhere. However, with an agency, it is harder to just "disappear". There are a lot of logistics to doing so, which makes it near impossible.
4. Time allocation
In the end a freelancer has an 8-10 hours of time to really work, a big portion of that goes to managing customers, sales, and in many cases fighting fires that were unexpected, which could be dealing with an angry customer or someone who needs their logo in a rush services. All of this affects you; the customer waiting. With agencies, each person's 8 hours is distributed to do their best work and when the company grows the number of people who handle that department grow.
5. Lack of innovation
All the next-best-thing's come from agencies. And that makes sense. If you are a good freelancer, your time is consumed with the day to day, you will never get better, you will just be doing the same thing day in and day out. However, agencies have departments for research and development, they have teams who analyze data and decisions for the future are made accordingly. Freelancers are not scalable, in the end they can design 3-4 logos and call it a day. For your business you should always want the best, the latest, and a company to work with long term.
There is a reason why renowned businesses in all types of services always prefer to work with agencies rather than a single person.
🔥 Design With Ember - Bridging the gap between freelancer and agency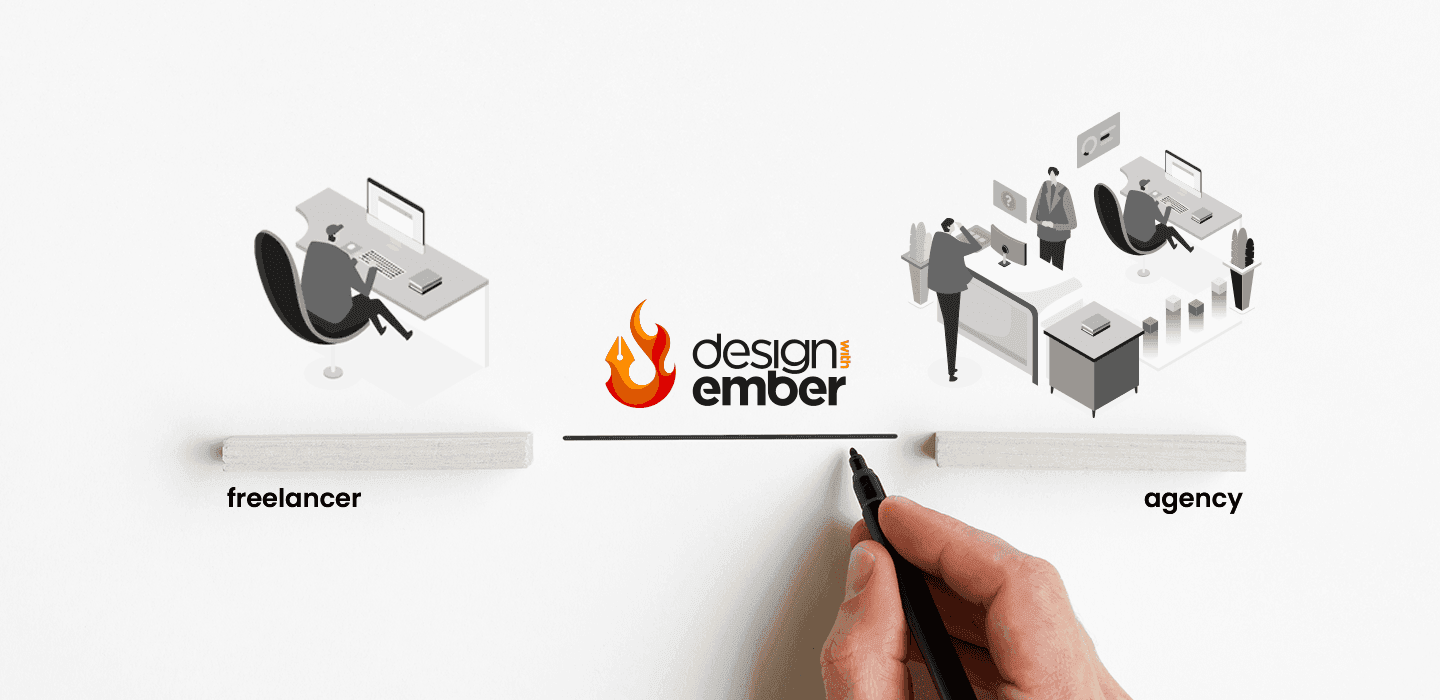 At Design With Ember, we have identified a sweet spot between agency and freelancer, where you get the best of both worlds. Our model allows us to not burden the client with our overhead costs and therefore be very competitive on pricing (better than some freelancers out there) while maintaining the personal touch you expect from a freelancer.
🏆 That's probably why we are one of the fastest growing logo design companies on the Internet, and we are super proud of it.
How to get in touch with us? You can get in touch through one of these 4 methods: